NuVet Lab Supplements

My dogs' health and the health of my puppies are a top priority to me. That is why I started using this immune system builder for my own dogs and I am seeing some amazing results in my dogs' health, coat, and energy levels.
It is veterinarian recommended and scientifically formulated to provide everything your pet needs for optimal health! I love the fact that it is made with no fillers or grains. You can purchase it either as chewable tablets or in powder form.
NuVet Plus can help defend your new puppy from toxins, nutritional deficiencies, common illnesses, and viral illnesses that we don't have vaccines for yet.
Award-Winning #1 Supplement in the United States
One of the Oldest, Most Successful Pet Vitamin Companies in the U.S.
On the Market for Over 12 Years
One of the Oldest, Most Successful Pet Vitamin Companies in the U.S.
On the Market for Over 12 Years
Manufactured in an FDA (human-grade) Manufacturing Facility
Human-Grade Ingredients
100% Natural
Holistic
No Sugars & No Fillers
Cold Pressed NOT Heat Treated
Created by a Team of Professional Veterinarians, Physicians, Pharmacists & Nutritional Scientists
You won't find a pet vitamin of this high caliber in your local "pet stores"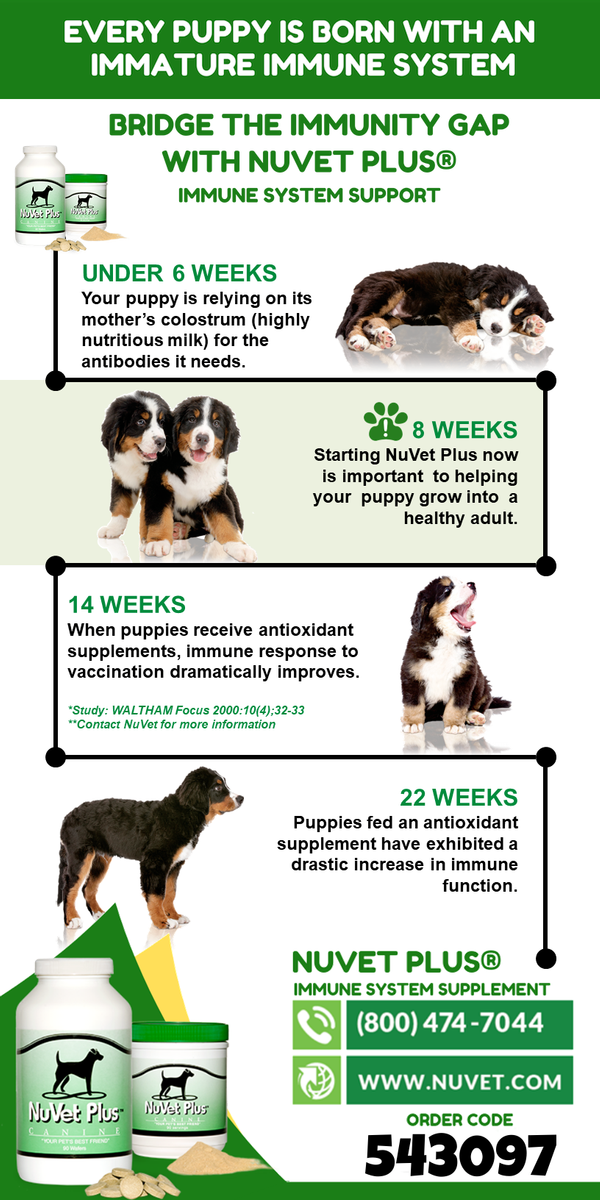 You can also save an additional 15% and assure you never run out of NuVet by choosing the "AutoShip" option at check out.
For Puppies – It fills the immunity gap all puppies experience. Shortly after birth, maternal antibody effectiveness is greatly reduced. By 8 weeks, your puppy's immune system is at a vulnerable point. Once in their new home, the immune system is weakened by the stress of adoption and exposure to new bacteria and viruses in their environment. This is also when the vaccine series is started. Vaccines are only effective if the immune system can respond properly. Starting this supplement now is important to helping your puppy grow into a healthy adult.
For Adult dogs- in their prime - it improves the luster of their skin and coat while protecting against allergies, skin and coat problems, staining from tears, digestive problems, etc.
For Older dogs- it helps protect against, tumors, premature aging, cataracts, heart conditions, diabetes, and many types of cancer while extending the life and improving the vitality of many dogs.
NuVet Plus is not available in stores or directly to the public. You can only purchase these products when you get a recommendation from a pet professional. (That is Me!)
TO ORDER CALL: 800-474-7044
YOU WILL NEED an ORDER CODE USE CODE: 543097
OR go to the NuVet site directly