Guardian Homes
Here at Bully Brand Frenchies, we believe every dog deserves to be a part of a loving family in a forever home. We want our dogs to get the stimulation and socialization that is needed to be a happy well-balanced dog. In order for this to happen, we like to place our chosen puppies, the ones that we wish to continue in our breeding program in a forever guardian home. Puppies live as pets in your home, you love, raise, train, and socialize the puppy as you would any family member while we retain the breeding rights to the puppy.
Guardian Home Program Requirements Florida & GA
A security deposit of approximately 50% of the current pet price will be required. Rather than paying full price for a pet puppy, you will receive a "pick of the litter puppy" for a 50% security deposit of the normal pet price. You are getting the best that Bully Brand Frenchies has to offer in a french bulldog puppy.
The program is only available to families and individuals who live within a 100-mile radius of Bully Brand Frenchies. Florida & South Georgia areas are the limits of this radius. I do require the dogs to come back for short visits so they can participate in the assessment and testing process, and eventually the breeding program, but always the Guardian Home dogs return to their family after these short breaks. After your dog has fulfilled the requirements under the Guardian Home Program, I then pay to spay/neuter them for you, and they continue to live with your family in their forever home.
Requirements:
Enter a partnership with Bully Brand Frenchies throughout the dogs breeding career
Live within 100 miles
Be willing to transport to scheduled vet visits, health testing, and photoshoots
Attend a puppy obedience class
Agree to keep the dog safe from intact males while in heat
Must not allow males to breed with other females
Feed PawTree dog food or another high-quality food that is approved by me
Give NuVet vitamins
Have a flexible schedule that allows you to be home with your puppy while growing and training
Must have regular communication with me on the well being and health of the dog
Must have social media or send updated photos to me on a regular basis
Must have a safe and secure environment
Must have a fenced yard
Must have pet insurance kept on the dog as long as they are in the program
In short, Guardian Home Program dogs are to be kept as house pets and family members. Even though you are only paying 50% of the normal pet price, I require that you take top-notch care of them. This means, but is not limited to, a high-quality diet, routine veterinary care, puppy and obedience training, love, exercise, and attention. These are my babies that are placed with you, and I need to be assured they will become your cherished family member.
If you feel you would like to be a guardian family to one of our breeding dogs and can adhere to the following requirements, please fill out the application below. If you qualify we will call to arrange a visit.
Benefits
When assessed for the breeding program, your puppy will be completely health tested, without having to pay for any of the tests yourself. Puppies are assessed around 12 months of age for quality based on high breeding standards, and then I will pay for a complete health test on this puppy for things like hips, elbows, eyes, and DNA profiling. Based on those results, I will decide whether or not to breed this puppy or pay to spay/neuter them for you. If I breed them, they will continue to live with you like your beloved pet outside of when they are with me being bred or whelping and weaning pups. If we spay/neuter them, you have a beautiful puppy for ½ of what you would normally pay for a pet.
Guardian Home Program Outline
First 12 Months:
In adopting a puppy or young adolescent from the Guardian Home Program, the first months are fairly basic. You will pick your puppy up and the puppy will live with you as your family pet. Love, training, and socialization are the most important things you can do for your puppy at this stage.
I expect the girls to have their first season/heat cycle between 9-12 months of age. Upon the start of their season, you need to contact me immediately. If you do not have a safe, protected place to keep them, or do not want to go through this cycle with them, you can bring them to me, and I will take care of them during this cycle to ensure they are not accidentally bred. A season will typically last about 3 weeks. I do not breed our girls in their first season or under the age of 12 months. You can expect their next season in about 6-8 months.
Sometime between 10-12 months of age, I will request that this dog come and have a photo session.
By 12 months of age, I will pay for the full range of health testing and DNA testing to be completed. Once the results are received from the health testing, I will make a final assessment of adding this dog to the breeding program. If I decide not to breed this dog, I will then have them spayed/neutered for you, at my expense, and the contract is complete.
Adding to our Breeding Program
If I add the dog to our breeding program, you will be required to bring this dog to me at the start of each season that we plan to breed. Or, with a boy, I will contact you prior to needing them brought back for mating. The boys will get more use in the first year, and substantially less after that. With the girls, during the off-seasons (if I decide not to breed during a season/heat) you may keep and house her with you if you have a safe area to keep her protected, or you may bring her to me to ensure unwanted breeding does not take place. I do not necessarily breed my dogs during every season, however, this is preferred and each dog will be evaluated on a case by case basis. After each season they spend with me, the dog will return to you. If I have mated them while they were here, they will go back home with you during their gestation period, and I will give you details as to their care, and when they need to return to have their litter.
I require that all pregnant Guardian Home dogs return to me one week prior to their due date. This ensures them time to settle in and start nesting in preparation for the birth of their puppies. Once the puppies are weaned, sometime between 4-6 weeks of age, the Guardian Program dog is then ready to go back home with her family. By this time, Mom is usually more than ready to have puppies with their sharp little teeth weaned, and ready to go back to her family.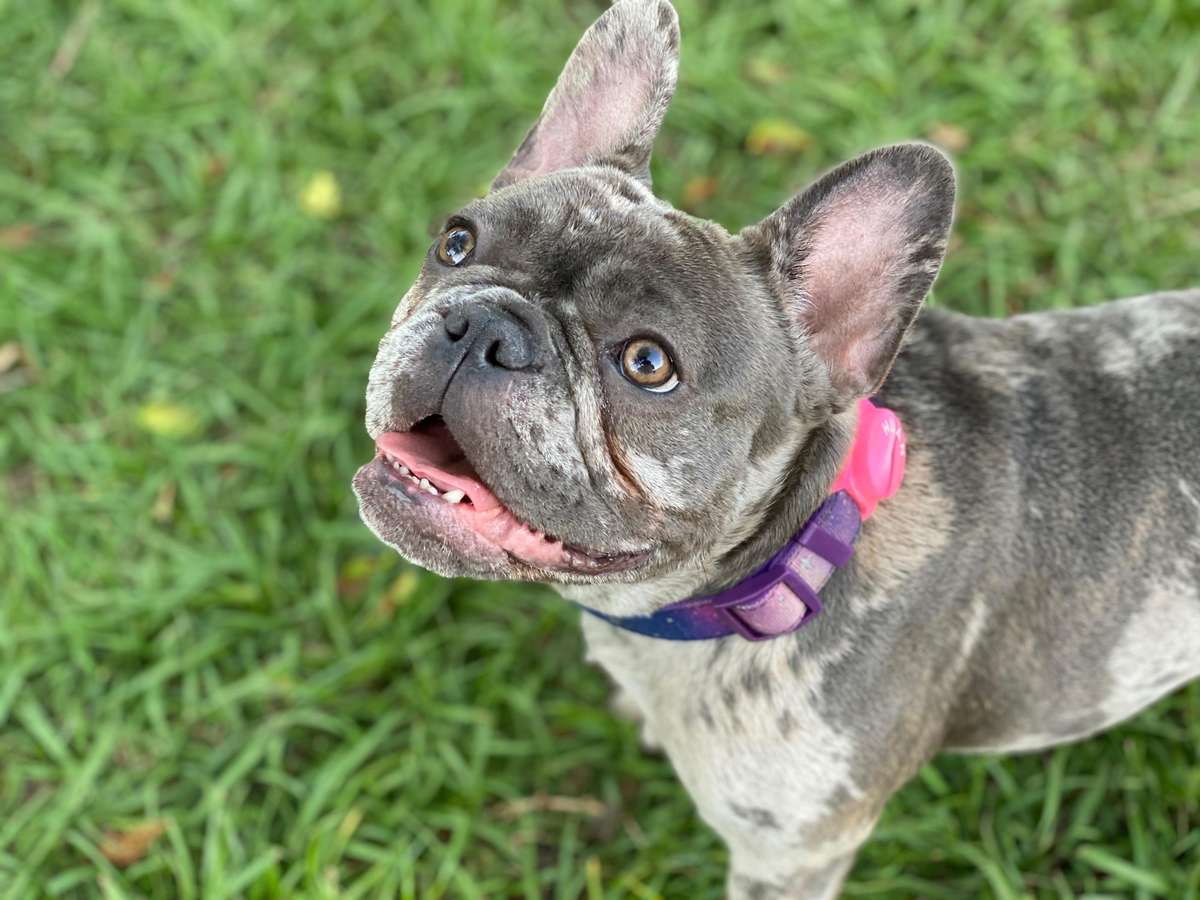 Required Litters
I require between 1-3 litters from our Guardian Home dogs once they are in the breeding program. Each dog will be individually assessed with each breeding and litter produced. Bully Brand Frenchies take the health and well-being of each and every one of my breeding dogs very seriously. It is my top priority to ensure they are in optimum condition for each litter they produce, which is why I work with homes in Fl & Ga exclusively. If I have accomplished my goals in breed development, I may select to retire them early or may select to breed them out to the full three litters. It will be solely the decision of Bully Brand Frenchies, and it is my right exclusively to make that decision. Upon retirement, I will spay/neuter them and transfer ownership to their Guardian family where they can be your pet with no further requirements.
Costs Associated with Breeding
Any medical costs related to health testing, DNA, breeding, and any stud fee costs required to produce the litter are the sole responsibility of Bully Brand Frenchies. The Guardian Program families are only responsible for routine maintenance and medical care, such as but not limited to, feeding, nutritional supplements, vaccinations, flea, tick, heart-worm preventative, and pet insurance, just as they would if they had a spayed/neutered family pet.