French Bulldogs
If you are interested in a French Bulldog puppy you have come to the right place!
We take pride in our babies as we make sure we are matching only the best pair of parents to complement each other.
All of our puppies are AKC registered. Your puppy will come home with a "Puppy Care Package" which includes a health certificate from a licensed veterinarian, all vet records, age-appropriate vaccines, microchipped, a copy of our puppy contract, his/hers AKC registration papers, 30 days of Tru-Panion Health Insurance, some PawTree food & treats as well as helpful information on the care of French Bulldogs & last but not least tons of goodies for your new pup to enjoy (harnesses, collar, leash, toys, chew toys, clothes & a bed).
We sell our puppies with **limited AKC registration** for Pet Homes Only, what does limited mean? It means we do not sell puppies with breeding rights we do not sell to kennel breeders. Our Frenchies are a part of our family and we want our puppies to go to homes where they will be treated the same way.
All puppies must be at least 8 weeks or older in order to go to their forever home.
Reserving your new puppy is only one click away!
Once you are ready to commit to one of our puppies simply click here on "Adopt Me" where you can fill out a puppy application. I will then contact you to send you an invoice.
We Do Not hold puppies without a deposit NO exceptions. Before placing a deposit please make sure to read over our Puppy Contract.
By placing a deposit you agree to the terms of our contract.
All deposits are $1000.00 the payment schedule is as follows:
$500.00 is due when you complete the Deposit agreement form for the litter of your choosing this will hold your place in line to pick your puppy. Once you pick up your puppy the remaining $500.00 balance of the deposit is due. The final payment for said puppy is due the day of delivery if your puppy is traveling then he/she needs to be paid in full by 7 weeks of age.
You may also place a deposit by calling us at (954) 494-9211 or sending an email to bullybrandfrenchies@gmail.com. Once a deposit has been placed, your puppy will be considered reserved and will be removed from our available puppies list.
All deposit payment transactions will be safely handled and processed via Zelle, Venmo, or PayPal (friends & family only), We also accept cash, cashier's check, or money order. For final payment, we accept all forms mentioned above except for PayPal. Paypal is only for deposits. No personal checks are accepted for final payment.
We raise our puppies in our private family home. Due to health and safety precautions, as well as the many diseases that can be harmful or deadly to our dogs and puppies, and wanting to be fair to our many families who do not live locally, we do not allow families to visit prior to their assigned Gotcha Day. We are sorry but this is something we do not take lightly. All puppy selections may take place via email, phone, video, and/or Zoom. Families will receive updates, pictures, and videos of the puppies along the way!
We look forward to meeting you and your family. We think our puppies will be the perfect addition you were looking for – talk to you soon!
Thank you,
Darlene & Family
**We reserve the right at all times to keep puppies from any litter as our Breeder's Choice. We also reserve the right at all times to return a deposit and cancel a sale if we feel we no longer would be a good fit.**
French Bulldogs Litters For Sale
Griswald Crew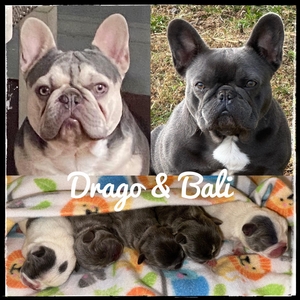 Breed: French Bulldogs
Availability: Available For Purchase
Litter Born: 12/21/22
Price: Call for pricing
Drago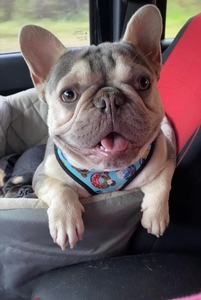 Bali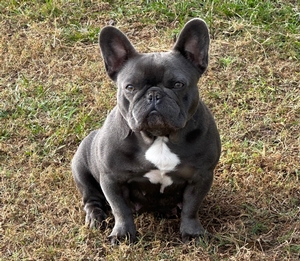 Bali & Drago welcomed 5 of the cutest babes on Dec 21st! Theres nothing like celebrating Christmas with the Griswalds meet Clark, Ellen, Audrey, Rusty & Cousin Eddie

French Bulldogs Past Litters